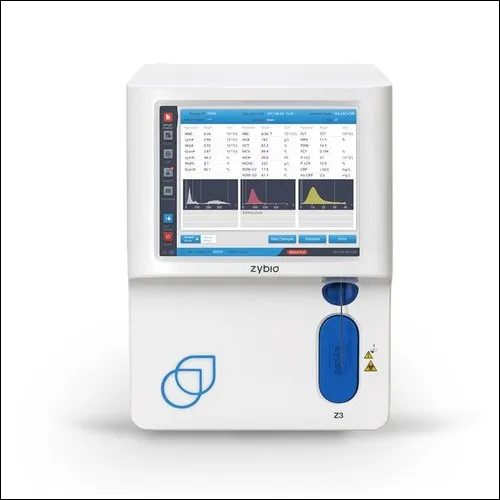 ZYBIO Z3 Hematology Analyzers Price And Quantity
ZYBIO Z3 Hematology Analyzers Product Specifications
Industrial,Hospital

ZYBIO Z3 Hematology Analyzers

Plastic

White

Hospital
ZYBIO Z3 Hematology Analyzers Trade Information
Product Description
Hematology analyzers are sophisticated medical devices used to analyze and count different components of blood, such as red blood cells, white blood cells, and platelets. These automated instruments provide crucial information about a person's overall health, including diagnosing various blood disorders and monitoring treatment effectiveness. Hematology analyzers are vital tools in clinical laboratories, hospitals, and healthcare settings for accurate and efficient blood analysis.
FAQs:
Q: What are hematology analyzers?
A: Hematology analyzers are advanced medical devices used to perform automated analysis and counting of blood components, aiding in the diagnosis and monitoring of various health conditions.
Q: How do hematology analyzers work?
A: Hematology analyzers use advanced technologies, such as flow cytometry, impedance, and laser light scattering, to measure and quantify blood components, providing accurate and reliable results.
Q: What components of blood can be analyzed using a hematology analyzer?
A: Hematology analyzers can analyze various blood components, including red blood cells (erythrocytes), white blood cells (leukocytes), platelets (thrombocytes), and other cellular parameters.
Q: Why are hematology analyzers important in healthcare?
A: Hematology analyzers play a crucial role in diagnosing blood disorders, monitoring disease progression, evaluating treatment efficacy, and providing essential information for patient care.
Enter Buying Requirement Details